Mercator
Mercator is a tool to batch classify protein or gene sequences into MapMan functional plant categories. Many MapMan categories deal with metabolic pathways and enzyme functions, therefore using this pipeline a draft metabolic network can be established, especially after manual corretion of the automatically derived classification see e.g. May et al. 2008.
For a sequence clasification Mercator performs:
Blast searches (searching for similarity to individual proteins/genes)
RPS-Blast searches (searching for similarity to scoring matrices derived from similar proteins)
and an InterPro scan
The results of the individual searches are then weighted by reliability. E.g. Uniref gets a low reliability since all proteins from Uniref90 are only classified based on keywords. The classifications with the highest reliabilty are retained. Current statistics (December 08):
Accuracy ca. 90%
Domains and families > 1000
Proteins and genes > 30.000
You might also want to try out our new service for MapMan X4. This is much faster (>10x) and shows a higher granularity and precision of BINS but doesn't cover quite as many gene models yet, and requires updated pathway files from within MapMan.
Please evaluate this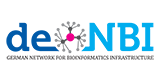 service! Give your feedback